Easily accessible & simplified drag and drop user tools for event management and report designers.
Running golf tournament events shouldn't run you ragged - Vision Perfect ViPER-TM software brings balance by perfect planning of your golf events.
How to Change Players?
In order to change a player setting, you have to select the grid menu. With the drag and drop option, you can change or shift any player to a new group.
Example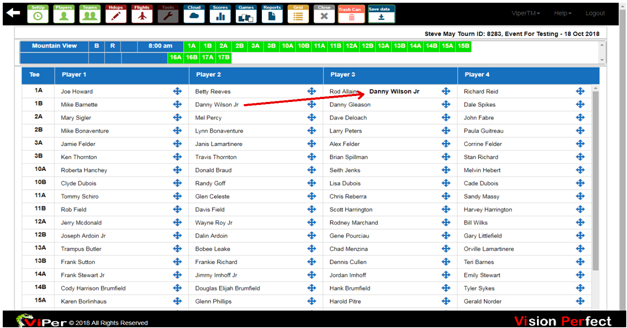 In this example, row 1B player (Danny Wilson Jr) is shifted to the row 1A with the drag and drop option. The row 1A has now turned out to be a 5some players group and 1B has turned out to be 3some.

You can easily change the group size, other than shifting players. You can see in real-time your changes.

After changing the players, the scorecard is automatically changed, accompanied by the Cart Sign, Starting Reports, the Bag Tags, and Scoreboard of the Players.
How to Change Tee Assignments?
You can easily change Tee Assignments by choosing the layout menu.

Choose the tee box and drag that tee box into the other tee box with which you want to change.
Example