Manage Players with Multiple view options for standard spreadsheet view or compressed 'Across' view with one Tee or Time per row.
In the event, if your golf event has multiple rounds, they can navigate from all sides of the rounds. The pairings can be observed by clicking the dropdown at the top. Also, you can see via Player or Tee Time. At what time you're editing the Tee sheet page; there are several viewing options accessible to you.
Changing Tee Assignments
Tee assignments can also be changed easily. You just need to choose the layout menu.
Select the tee box and drag that tee box into a player or team tee box with which you would like to change.
For instance, I feel like to change 2A tee box to 1B tee box.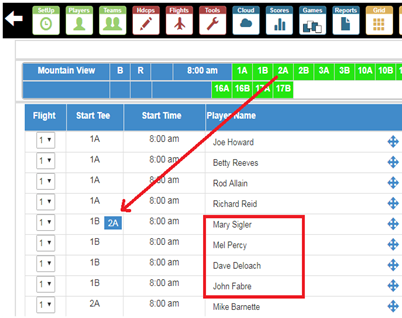 By Dragging, 2A tee will be dragged and changed with 1B tee, then the entireteam's tee boxes will get substituted with one another. In the following screenshot, all the players of 1B tee have been successfully shifted to 2A tee.
Our golf event management software automates the entire process of running your golf tournament, including scheduling, registration, score cards, and more.
Enjoy golf event with multiple view options to your course operations!